Make A Statement.
You were meant to stand out.
Be yourself.
The rules were made to be broken.
It's YOUR Wedding!
You are a cool bride. You are not a regular bride.
You are shopping for dresses and nothing fits!
It's like a sea of white!
But you have such an awesome, fun, unique and colorful personality.
You are a total free spirit.
You don't follow the rules.
You've always colored outside the lines.
You need a dress as unique and awesome as you are!
I get it!
I went through the exact same thing when I was planning my wedding!
It sucked!
I'll never forget how much I hated wedding dress shopping!
It just felt so impersonal.
Lost in an overwhelmingly huge selection of white traditional gowns, I didn't feel like myself as I tried them on.
I was a free spirit, with rainbow colored hair since my childhood. I wanted a dress that fit my adventure filled crazy colorful quirky personality.
And it didn't exist on the racks.
And then I realized, I know how to sew, I make incredible show stopping garments full of lights and color for avant garde performance artists, to wear at festivals, why couldnt I make myself a dress for my wedding that was as awesome as the ones I made for rockstars!?
And so I made my own. And it was amazing!!
I literally brought my vision to life in the form of the most amazing dress ever.
It was the best feeling in the world, to wear a dress that felt like me.
I Loved that I figured out a way that I could be me.
And I realized I wasn't the only bride that wanted to feel like herself in a dress!
And so I began helping other brides be themselves too.
Who Am I? I'll tell you.
I'm a quirky girl, who never fit in anywhere. When I was in kindergarten, my teacher, told my parents that I march to the beat of my own drum.
Favorite childhood toy : Rainbow Brite
Earliest Memory: Disneyland's Electrical Parade.
Always intrigued by: fireworks and fireflies.
Favorite Color: Rainbow. All of them.
FAMILY HISTORY:
My dad is an artist, and my mom always encouraged me to be creative, so before I could talk, I was encouraged to play with colors, and to color outside the lines.
I come from a 2 long lines of tailers and seamstresses. My dads grandfather was a well known tailor in Denver, Colorado. He made suits for weddings!
My moms family, they all sewed. My family owned garment factories in Lodz Poland, before they were all taken away in the 1930's.
MY FASHION STORY:
My grandma taught me how to sew and helped me design and make my own clothes by combining treasures I found at local thrift stores.
One thing led to another, and without even knowing how to sew, I began getting hired as a wardrobe stylist for commercials, photo shoots, and music videos.​
I'll never forget the day I was flipping through the pages of Rolling Stone Magazine, and I saw Gwen Stefani's wedding dress dipped in pink dye.
That. Changed. Everything.
What an awesome dress that was. I thought that would be such a dream to make a dress for someone as awesome as Gwen Stefani!!! And for her wedding!!!
So I immediately decided that I needed to stop everything, and learn how to make amazing dresses from scratch.
And how better to learn about making whimsical pink gowns, than from fashion icon, Betsey Johnson!?
And so without much thought, I packed up my life and drove all the way from Los Angeles to New York, with nothing by a pillow, some clothes, and my two crazy dogs, in the hope of landing an internship with Betsey Johnson.
You can read about my story here, and I still feel like I need to pinch myself because I can't believe it happened.
It was unreal. The adventure getting there, landing the internship, becomming Betsey Johnson's personal dye girl.
I experimented with color.
And really started to play with fashion.
From there, I went to fashion school, and learned everything I could about molding fabric and draping and how to stitch and sew and cut and pin, and make and follow patterns, and do it all from the ground up.
I landed a sweet internship at a Hollywood Costume House, where I had the honor of being part of a team where we hand made garments worn by major celebrities like Nicki Minaj, Brittany Spears, Iggy Azalea, Fergie, and Cher, just to name a few. I learned how to shape foam and create awesome things like Katy Perry's famous cupcake bra that she wore in the music video California Girl's.
I also landed a crazy awesome gig at Western Costume, where I was in charge of organizing the library of iconic costumes, including Dorothy's Red Slippers!!! I got to hold all these incredible garments in my hands, and study every stitch, every thread, until I felt confident enough in my own skills to open my doors and started getting my own jobs as a seamstress for the Avant Garde Cirque performance troupe, Lucent Dossier.
Somewhere along the way I traveled the world with my backpack, and went to UCLA and got a Bachelors in Cultural Anthropology, and spent lots of time volunteering with homeless and at-risk youth. I'll never forget my crazy road trip to New York, or how I got to work with Betsey Johnson, dress celebrities in costume houses, camp out with artists at Music Festivals, and getting to watch my work light up on stage, under the sea, at an exclusive celebrity studded SOHO House or at an MTV Award Show.
WEDDING DRESSES
From festival brides to Disney Weddings, my rainbow and light up electrical gowns have been on some amazing adventures! heck, my dresses have literally done more things on my bucket list than I have!!!
My gowns have had greater adventures than I have! They've rode in hot air balloons, swam with sharks and beluga whales, and have started gracing the pages of non-traditional wedding magazines, from been featured in Huffington Post Weddings, Rock N Roll Bride, Rebellious Bride, Offbeat Bride, Green Wedding Shoes, and  European Fashion and Wedding Magazines, and TV stations from Los Angeles to Finland.
In recent years Reality TV show production companies have contacted me to create a show about me and my one-of-a-kind dresses.​   ​
I LOVE that I get to help brides, be authentically themselves and have FUN at their weddings!
I love working with creative brides. I love that my clients inspire me!
I made a dress covered in toys, another covered in candy, another made completely out of pages of books!
Making light up and rainbow wedding dresses is the culmination of everything I love and live for. I get to play with electricity and splash color and paint and crystals and rainbows and light everywhere! I LOVE infusing an element of surprise, with  color changing, remote control operated,  and projection mapping illuminated technology.
YOU want an amazing dress.
You want to have fun, and this is your time to do it!
Click here to book an appointment.
310-696-9148
"To Whomever! Evey is great!" ~ Betsey Johnson
I love mixing tradition with show stopping aesthetics, and breaking all the fashion and wedding rules.​
Click here to  get in touch any time, with any questions.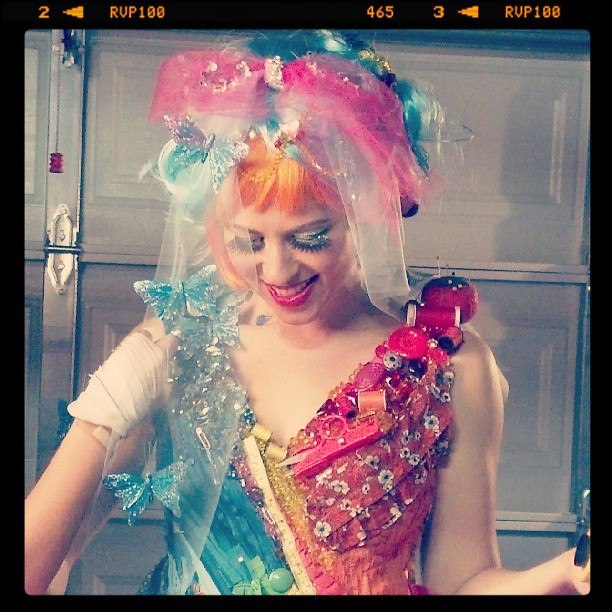 Evey Can Help You Turn Heads, Stop Traffic, And Shine.
THROUGH CREATIVE DESIGNS, GROUND-BREAKING FASHION & ILLUMINATED WEARABLE TECHNOLOGY
WEDDINGS • MOVIES •  TELEVISION • THEATRE • PERFORMANCE ART • COMMERCIALS • TRADE SHOWS • EDITORIALS