Opening the cages and setting the animals in the fur farms free has been a dream of mine since I was a little girl. So working on this shoot with Fashion Photographer Kelly McBride, was a dream come true. No animals were actually featured in these images, it is all composite artwork!
 Feature published in this months Break Magazine!!!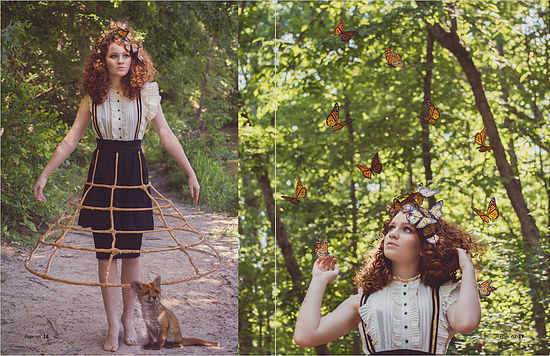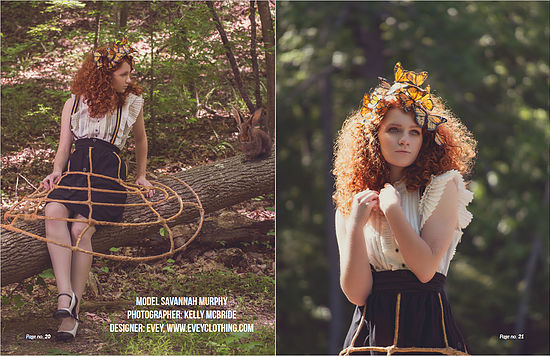 ​As a couture wedding dress designer, people are often shocked to hear that I don't use silk!
 In our society, high fashion comes with great cruelty. Rabbits, seals, foxes, and even dogs are skinned alive so we can wrap ourselves in their luxurious furs. It takes 200 rabbits just to make one fur coat. Moths are boiled alive for their silk. Foxtails and rabbit's feet hang on key chains while birds are tortured so we can decorate our hats.
 Animal skins and furs were once needed for our survival. But as humans advanced, so did technology, and an abundance of sustainable and eco-friendly materials have been developed to protect us from the elements without compromising our style or any other living thing.
 From the runways of Paris and New York, to stores at the mall, movie screens, TV shows, magazines, celebrities, fashionistas, and our friends, fashion trends spread through our culture like wildfire and influence our buying patterns.
 It is a tremendous responsibility to know that what we buy and wear has an influence on the kind of world we have. But as consumers, we can help change things. A loss of market demand will slow the torture of living creatures for our needless luxury.  Knowing how our clothing is made and the unnecessary compromises we make with regard to the waste of life is a first step.
 Trends are contagious. We inspire others through the choices we make. If you care about our planet and its beautiful creatures, distance your wardrobe from animal products, and let people know why you are choosing to do that. Animals need their fur and skin more than you and I do.
 Dr. Seuss wrote in the Lorax, "UNLESS someone like you cares a whole awful lot, nothing is going to get better. It's not."