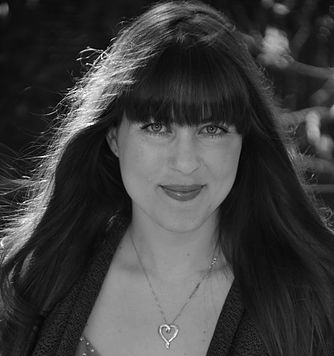 Ever since I was a little girl, I have been intrigued by twinkling lights, from fireworks to fireflies, and bio-luminescent lights sparkling on the beach at night. Disneyland's Electrical Parade and soaring through the stars of Peter Pans Adventure, opened my eyes to the possibilities of dreams and imagination as a child.
When I was about 10 years old, my grandmother taught me how to sew and helped me design and make my own clothes by combining treasures I found at local thrift stores. In high school, people wanted to know where they could buy the clothes I was wearing.  One day, a local boutique owner asked where I had bought the purse I was wearing.  When I told him that I made it, he cleared out half his shop, including the store window, and the next thing I knew, I had all my hand made creations for sale there. One thing led to another, and I began getting hired as a wardrobe stylist for commercials, photo shoots, and music videos.​
After graduating from UCLA with a BA in Anthropology, I backpacked through Europe where I walked along the banks of the Danube river at sunset watching Budapest transform into a twinkling city of gold. As the night sky darkened, the lights of the majestic Buda Castle lit up the night sky, reflecting on the water in such a romantic way, and I remember feeling a soul connection to that view.​
I fell in love with the fashion styles I saw in Amsterdam, Berlin, Barcelona, and Japan, and when I got back to LA, I decided to design my first collection for a fashion show that I coordinated to raise funds and awareness for Aids Project Los Angeles. I was truly limited in my sewing skills at the time, so my amazing grandmother helped me construct every garment and accessory that the models wore that night!​
Afterwards, I wanted to learn how to make amazing dresses, so I got this idea to try to meet my idol, Betsey Johnson, and learn from her because I've always admired her whimsical feminine style. So I moved out of my apartment, put my two mutts in the car, and drove all the way from Los Angeles to New York, where I landed an internship directly with Betsey and her design team. It was a dream come true, and I still feel like I need to pinch myself because I can't believe that I was so lucky to learn from and work with my idol.
After a year of working with Betsey, I realized that I still had so much to learn about fashion design. So, I enrolled in Fashion school for the next four years, and took every class until I finally felt comfortable in my skills as a seamstress. I took another internship, this time at a Hollywood Costume House, where I had the honor of being part of a team where we hand made garments worn by major celebrities like Katy Perry, Nicki Minaj, Brittany Spears, Iggy Azalea, Fergie, and Cher, just to name a few. It wasn't long before I started getting my own jobs as a seamstress for the Avant Garde Cirque performance troupe, Lucent Dossier. From there, I opened my doors, and began designing couture wedding gowns for offbeat, rock n' roll, alternative, and non-traditional brides.
I decided I wanted to figure out a way to tie in the magical, soul burning, jaw dropping, adventure filled feelings of my experiences with light and infuse them in my custom wedding gowns for my brides.​
I bought myself a soldering iron, and read and researched and took classes and attended seminars to learn everything I could about LED's, wires, battery operation and fiber optic filament, and before long, I began weaving my own delicate light up fabrics.​
I figured out how to make transforming/convertible dresses, the perfect two-in-one gown so that the dress can be traditional and classic for the ceremony, with the wires and lights completely hidden, and then with the flip of a switch, turns on the lights, signalling the start of the festivities.​
Making light up wedding dresses is the culmination of everything I love and live for. This includes standing up for animal rights (because I refuse to use silk), and getting to create beautiful and meaningful wearable art, while helping people have fun and be themselves, feel great, stand out, and shine. I love mixing tradition with show stopping aesthetics, and redefining the boundaries of fashion.​
I believe a wedding dress is such a personal thing. We all have unique body shapes, tastes, styles, and personalities– it makes sense that so many brides don't find their dream dress already on a hanger in a boutique.​
Sometimes we love the shape, but not the material, or the bottom, but not the top… or everything about it but it doesn't sit with us ethically because of how or where it was made. Sometimes brides want to wear a special dress that belonged to someone else, or incorporate sentimental material into their gown. Some brides know exactly what they want, they've imagined it in their minds, but now they need someone to bring their dream dress to life.​
That's where I come in.
I design a dress that is perfectly fit to the bride from the inside, out.​
After I meet with the bride to understand her personality, style, taste, and everything she'd love in her dream dress, together we design the perfect gown. After the bride is in love with the design, I work for hundreds of hours with my teams in both Los Angeles and France, hand stitching, soldering, wiring, and constructing the custom wedding dress.​
I can also add lights to an existing dress if the bride already has one.​
My favorite moment, is when the bride comes back to my studio to try on her dress for the first time, and I get to watch the dress come to life on the person it was made for. It's so much fun to see the dress on the bride, and then we turn the lights on! The priceless reaction of a bride falling in love with her dress, is my absolute favorite part of what I do.
My journey with fashion has been pretty rad. Along the way, I've gotten to do some pretty cool things like design costumes for performers at Coachella Music Festival, and get to camp out with them, hang out back stage, and be there to enjoy the show. My garments have walked the halls of international trade shows including Comic-con, and have been on display at the exclusive celebrity studded SOHO House and MTV's Award Shows. European Fashion and Wedding Magazines, and TV stations from Los Angeles to Finland have featured my wearable art and within the last couple years Reality TV show production companies have contacted me to create a show about me and my one-of-a-kind dresses.​
When I'm not making light up dresses, you'll find me picking berries or feeding baby animals on a farm, kayaking, driving across the country, singing silly songs and awkwardly dancing and chasing my little toddler around with my big pregnant belly, playing with our three dogs out in the yard, or volunteering in social work. I still go back to Disneyland as often as I can to watch the light parade, and I love to paint, make a mess, and listen to music.​
It would be an honor to make your dream dress for your special day. If you want to turn heads, stop traffic, shine, and feel I may be a good fit, let's grab a coffee and talk about your dream dress!​
Click here to read my testimonials, check out my client list, and feel free to get in touch any time, with any questions.
Evey Can Help You Turn Heads, Stop Traffic, And Shine.
THROUGH CREATIVE DESIGNS, GROUND-BREAKING FASHION & ILLUMINATED WEARABLE TECHNOLOGY
WEDDINGS • MOVIES •  TELEVISION • THEATRE • PERFORMANCE ART • COMMERCIALS • TRADE SHOWS • EDITORIALS